Description
5.1-channel powerful and stylish surround system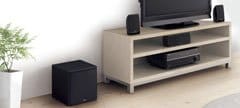 The AV receiver ensures that action movies with loud, dynamic soundtracks will be heard in spectacularly realistic surround sound. The front, surround and center speakers are high quality models capable of reproducing high definition audio, and the subwoofer delivers clean, crisply powerful bass. Rounded corners give the speakers a stylish appearance.
Virtual CINEMA FRONT Provides Virtual 5-channel Surround Sound with High Quality and Resolution
Even when it is impossible to install surround speakers behind the listening position, Virtual CINEMA DSP reproduces virtual 5-channel surround sound filled with realism, with only two front speakers. With Virtual CINEMA FRONT, you will enjoy virtual 5-channel surround sound with higher quality and resolution by installing surround speakers at the front. You get more flexibility to arrange your speakers inside the room, along with easy enjoyment of high quality surround sound.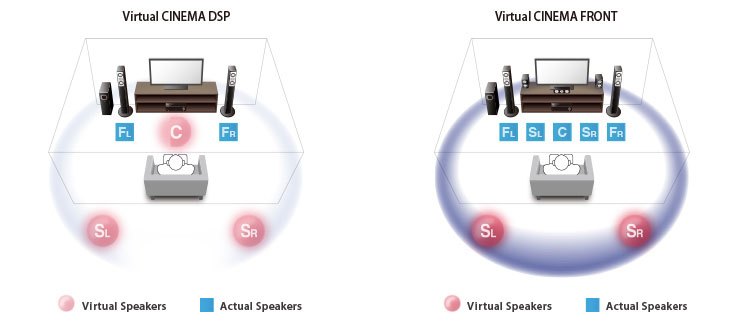 Extra Bass Provides Rich Bass Reproduction, Even with Small Speakers
Yamaha' s exclusive low-range enhancement technology delivers richer bass than you expect from the speaker size while maintaining good localisation and sound balance even with compact front speakers. When a subwoofer is used, it improves the volume of the entire low range of the speaker system, not only the front speakers, but also enhancing the bass from the subwoofer. You'll enjoy video and music with sound that has exceptional power and presence.

Discrete Amp Configuration for High Clarity Audio Performance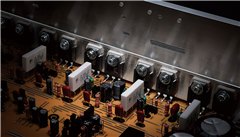 The AV receiver was designed with a strong focus on achieving exceptionally high sound clarity. It employs a discrete amp configuration and a low jitter PLL circuit, which contribute to its excellent audio performance.
This AV receiver provides advanced HDMI features including pass-through of 4K Ultra HD, which is gaining popularity. 4K Ultra HD refers to four times the resolution of a 1080p display. This receiver is capable of passing the 4K Ultra HD data from the source to the monitor, for image clarity far beyond present standards.
*This model doesn't support HDCP2.2. HDCP2.2 compatible equipments are needed to see 4K contents which are encypted with HDCP2.2.

HDMI (4 in / 1 out) with 3D and Audio Return Channel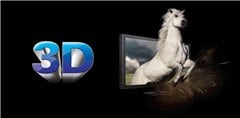 Four HDMI terminals provide convenient one-cable connection of various HD digital sources. HDMI also offers two special features: 3D for 3D video signals and Audio Return Channel.
Compressed Music Enhancer

When music is encoded into a digitally compressed format like MP3, the frequency response suffers. Yamaha's Compressed Music Enhancer employs sophisticated digital signal processing using exclusive algorithms to restore what was lost, so the music always sounds the way it should.
SCENE for Easy One-Touch Operation

Four SCENE buttons make operating the receiver easier than ever. They are initially set to default settings for BD/DVD Movie Viewing, TV Viewing, CD Listening and Radio Listening. Pressing a SCENE button turns on the power, selects the input source and assigns the optimum DSP mode for that source.
OSD with Colour Icons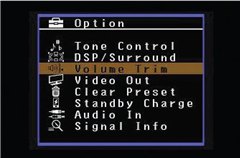 The YHT-1810 features Yamaha's latest on-screen display, which provides colour icons for quick identification. Menus can be viewed in English, German, French, Spanish, Russian Italian, Japanese or Chinese. In addition, menus can be overlaid over the image.
Curvy Design for Chic Interiors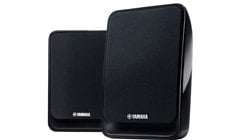 The surround speakers have a curved shape that blends nicely with any interior. They are just the right size for good sound quality and convenient placement in almost any location.
ECO mode lowers power consumption by 20%*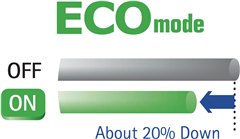 Yamaha's new ECO mode reduces power consumption by about 20%. It can be set easily from the top of the OSD menu.
* Compared to power consumption when ECO mode is off (Yamaha measurement).
Auto Power Down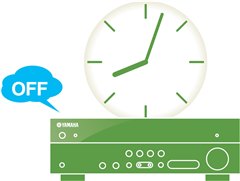 Auto Power Down after 2, 4, 8 or 12 hours (selectable) and extremely low power consumption make this an environmentally friendly receiver.